Cargill released its annual Cargill Aqua Nutrition Sustainability Report 2022. This is Cargill's 14th year in reporting its continued progress in making a positive impact from the center of the aqua value chain and building on transparency on key sustainability topics, providing reports on supply chain, operations, and product performance.
14 years in a row
Since the launch of the first Cargill's Aqua Nutrition Sustainability Report 14 years ago, there have been significant developments across the organization and within the report itself. "The reports started under EWOS and initially just covered salmon, but when Cargill purchased EWOS in 2015, it was developed to include shrimp and other warm water feeds that are in the full Cargill Aqua Nutrition portfolio. We have also seen an increase in transparency throughout the report as we cover a greater breadth of topics with deeper analysis," Helene Ziv-Douki, president and group Leader for Cargill's global Aqua Nutrition business, told Aquafeed.com.
During these 14 years, the company has moved from reporting to action. "For example, we source marine ingredients from certified sustainably managed producers, and we will continue to deliver on our promises this year even if the fishing season is a very difficult one in Peru," Ziv-Douki explained.
"More recently, we have been able to calculate, with a certified third party, our carbon emissions not just in relation to the energy we use to make feeds (Scope 1&2) but also to our supply chains (Scope 3). While this is complex and resource-intensive, it enables sustainability improvements for our customers and throughout the value chain, which is necessary to grow the sector globally," Ziv-Douki said.
Reducing carbon footprint
Cargill works with salmon farmers as well as ingredient suppliers to reduce greenhouse gas (GHG) sources embedded in the value chain through its SeaFurther™ Sustainability program. The company aims to help reduce carbon emissions from salmon farming by 30% by 2030.
"It is essential to partner through the value chain to drive decarbonization – one player cannot do it alone. By working with our customers (fish farmers), we can create a pull upstream for lower carbon feed ingredients. These can be provided by working with crop farmers to reduce agricultural emissions or by ingredient processors to decarbonize their processing steps," Ziv-Douki said.
"We believe that this is the strength of SeaFurther™ Sustainability. We have set our goals on our customers' success – not on our own individual performance. By working together in a partnership, we build a longer-term approach, which creates the incentive through the value chain to drive and deliver change. We see this in a move towards longer-term contracts with fish farmers, giving us the chance to work together to deliver on changes such as reducing carbon footprint through our value chains," Ziv-Douki stated.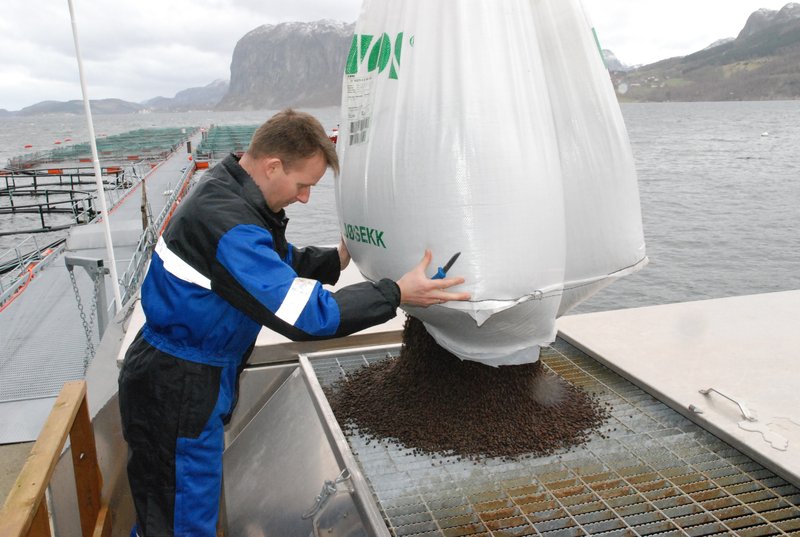 Credits: Cargill
Feed ingredients
Aquaculture's carbon footprint mainly stems from the mix of raw materials in the feed. In 2022, Cargill teamed up with eight U.K. farms to pilot climate-friendly regenerative agriculture practices to achieve a 1,000-tonne carbon reduction. In 2023, the company's goal is to sign up more farmers and avoid over 10,000 tonnes of emissions.
Improving the sustainability of marine ingredients is also key by buying certified fishmeal and oil as before, but with an increased engagement in fishery improvement programs to develop more sustainable management and fishing practices, and an increase in the use of fishery byproducts as feed ingredients.
"Peru is the world's largest exporter of fishmeal and fish oil, and disruptions in their season create an immediate supply impact on a global scale. With less fishmeal and fish oil in the market, prices of those commodities will likely rise, impacting aquaculture around the world," Ziv-Douki said. "Cargill is well positioned to help our customers navigate this uncertainty and we will continue to deliver on our sustainability commitments and nutrition in 2023, despite these challenges. We believe it would be very wrong for our industry to go backward and start increasing the sourcing of non-certified marine ingredients due to the current Peru season situation."
In the long term, oceanic conditions and weather anomalies are expected to have an impact on all parts of the global supply chain. "Cargill will continue to prepare for these types of events and considers risk management, nutrition and sustainability to be pillars of our organization. Cargill works with a number of different origin countries where we help finance several Fishery improvement projects (FIPs). We also deliver nutrition solutions to help our customers manage ingredients and supply chain uncertainty," Ziv-Douki said.
The company also continues to increase the use of alternative ingredients, such as insect meal and algae oil, to help expand the raw material basket to produce more feeds sustainably, as well as develop better feed packaging solutions that keep many tonnes of plastic out of the environment.
Supporting farmers
In 2022, sales of functional feeds, which help keep fish healthy, reducing the need for medication like antibiotics, reached their highest level since 2017. The company saw a 71% reduction in coldwater antibiotic feed sales since 2017.
Many of the sustainability efforts have been placed on coldwater feeds. Salmon aquaculture is one of the most advanced sectors from a production and sustainability perspective. However, salmon aquaculture is only a small portion of global aquaculture production (although about half of Cargill's feed production).
"It is essential that sustainability lessons from salmon are passed to warm water aquaculture and the feed used, as well as developing approaches for topics which are not covered by the learnings from salmon. Cargill is well positioned to do this through our breadth in aquaculture and in the global food supply chains. However, it needs to be done as a value chain – with our suppliers and our customers," Ziv-Douki said. "Our goal at Cargill is to progress on our core sustainability pillars across our businesses. This means that we are already working on sustainability on our warm water feeds – from topics such as Scope 1&2 emissions, sustainable marine ingredients and supply chain human rights."
New management tools for farmers are becoming more important and key to increase sustainability. "Cargill Aqua Nutrition is investing in digital capabilities to support our customers to get the most from our feed products and the other services we offer. By driving efficiencies through nutritional and productivity optimization, we start to deliver on sustainability. With digital management tools, we can measure performance and bring in more data to identify where sustainability hotspots are and how we can reduce their impacts. It's important that we not only do this – but we do it at a tremendous scale. This requires the kind of heavy lifting that Cargill is uniquely well-positioned to undertake," Ziv-Douki concluded.
Download the report here.