Aquaculture is a sector that continues to experience positive growth to meet world food demand. Besides farming techniques and the application of biosecurity, nutritional intake and health are also factors that require consideration to support the improvement of the fish and shrimp performance in aquaculture. The strategic application of feed additives can be a way to help maintain business profits, namely by minimizing the risk of losses due to diseases and helping accelerate recovery in post-disease outbreaks.
As a global company in the field of feed additives, Adisseo takes an active role in supporting the aquaculture sector by providing specific solutions for different aquaculture species, as well as services to increase effectiveness and efficiency in business. With this approach, it is hoped that it will encourage the fish and shrimp farming business in a sustainable and profitable manner.
An Adisseo Aqua Seminar, Protect Your Margins, was held on August 15, 2023, at the Westin Resort, Nusa Dua, Bali. This international event brought together about 80 online and onsite participants from all over Asia for an insightful day of learning and collaboration.
Global aquafeed ingredient update
Kicking off the seminar, Alexander van Halteren, global commercial manager, delivered a comprehensive update on the latest aquaculture and ingredient market trends. Global disruptions in weather, freight, ingredients, energy and inflation have created a perfect storm for the aquaculture industry. The outlook continues to be rather bleak, especially for the Asian shrimp market. Participants gained valuable insights into the evolving landscape of raw material supply and demand in the current geopolitical and environmental context.
Shrimp health management practices
Dr. Prakan Chiarahkhongman, deputy director of CP-Advance Pharma Representative at Charoen Pokphand Foods, Charoen Pokphand Group Global, shared practical perspectives on shrimp health management practices. The focus was on Enterocytozoon hepatopenaei (EHP) and vibriosis control, while taking into account the pond culture and management conditions for a holistic farming approach. As EHP has become endemic in many farms, focus needs to be on mitigating contributing factors such as water quality, shrimp health and feed quality. Dr. Prakan shared some developments in feed technology and ingredients that can help farmers in the fight against diseases. His insights offered participants a deeper understanding of effective disease prevention strategies.
Diving into aqua research
Waldo Nuez Ortin, global aqua R&D manager, took participants on an intriguing journey into Adisseo's latest aqua research findings. Exploring the depths of aquaculture innovation, from product conception to lab and field validation and elucidating the modes of action. Some of Adisseo's latest aqua research strategies, such as co-infection challenge models, bioassays, parasite-animal models and molecular transcriptomic methods were shared as examples. Attendees got a firsthand look at the research advancements that could help shape the industry's future.
Nutritional strategies for margins protection
Martin Guerin, regional technical, delivered a talk on nutritional strategies designed to safeguard your margins. There is a need to maintain feed specifications and performance under the current ingredient availability and cost challenges. Insights were shared on strategies and alternative ingredients such as Aqualyso STD, Lipogest and Aquabite S, to effectively replace fishmeal and lipids while significantly reducing feed costs. The examples for optimizing feed formulation and nutrition management resonated strongly with attendees, providing actionable takeaways to enhance profitability.
MoU signing and opening welcome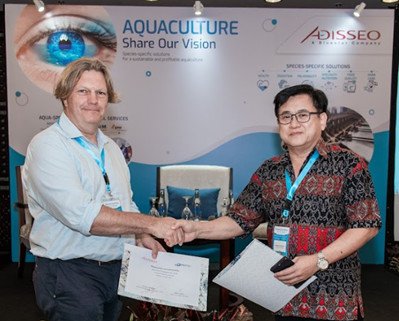 A significant moment was the MoU signing between Adisseo and CV Profeed Indo Tama, led by Alexander van Halteren and Jupijanto Pudjiono, symbolizing a partnership and commitment to advancing the Indonesian aqua industry.
Following the Adisseo Aqua Seminar was the Aquaculture Roundtable Series (TARS) 2023, of which, Adisseo was a sponsor. This year's theme was Shrimp Aquaculture Regeneration. Production and energy costs have increased tremendously and impacted the profitability of farmers and stakeholders in the whole supply chain. The theme was aptly chosen to encourage the participants to proactively seek ideas and solutions to improve culture methods, manage and mitigate diseases, optimize nutrition and focus on sustainability.
Dr Ei Lin Ooi presented a talk on Harnessing shrimp health with functional nutrition which shed some light on the potential of functional additives to impact health and nutritional status. Focus was put on research approaches Adisseo has pursued to elucidate the various modes of action of functional ingredients. The importance of application strategies was also emphasized with an example from a large-scale shrimp farm trial of 40 ponds with Sanacore GM which significantly increased survival and production outputs while reducing feed conversion ratio (FCR).
Bjorn Kok presented a talk on Unleashing life cycle assessment (LCA) for a thriving and sustainable shrimp aquaculture sector to address the increasing need for sustainable practices and the development of methods to quantify it. The process of LCA requires a definition of the goal and scope, followed by data collection to calculate the impact and to meaningfully interpret the outcomes. The LCA methodology was illustrated for two functional feed additives, a digestive enhancer and a health promotor from Adisseo's range of Aqua Specialties. These studies showed up to 38% and 16% reduction in greenhouse gas (GHG) emissions per kg of shrimp produced resulting from the supplementation of the health and digestive additive, respectively. The talks were followed by panel sessions which engaged the audience in discussion.