In the first two parts of the Aquafeed Outlook 2023 series, Aquafeed.com discussed how technology and ingredients suppliers see 2023. In this last piece, we discuss how the feed companies face the new year and the turbulent times.
How is the rising inflation affecting consumer demand?
In the current context, a first look should be made at protein demand. Rising inflation may have implications downstream in the supply chain. Changes in the consumers' demand directly affect upstream operations – matching supply and demand is of paramount importance – and feed companies are aware of this, making distinctions between regional trends. "Demand for certain animal proteins might be reduced in some developed countries, but in areas where food security may be a greater risk, fish, poultry and pork remain important to consumer diets. Livestock and aqua farmers are needed now more than ever to ensure global nutritional demands are met," said Pierre-Joseph Paoli, president, Feed Additives & Ingredients, ADM Animal Nutrition.
"This is a challenging environment, with cost pressures affecting all aspects of the value chain, from sourcing raw materials to feed conversion efficiencies to the price of beef at the supermarket. Consumers are making conscious choices on protein purchases in restaurants and retail, with some trading down to lower-cost items, such as a less premium cut of meat or alternative sources of protein. However, that does not necessarily translate to reduced demand for animal-based products," Paoli said.
In the case of shrimp, "consumers' demand for shrimp will remain depressed which creates a domino effect," forecasts Mark Rowel Napulan, Asia sales manager at Zeigler. "Farmers are expected to produce less output due to uncertainties in demand. Feed suppliers will stock conservative levels of inventory. The feed industry will struggle with increasing feed costs and expect to operate at a more limited scale."
How about feed prices and farmers
Farmers are also adapting their production to the changes downstream but they are also expressing concerns that higher feed prices, driven by higher ingredient costs and other inflationary pressures, are impacting operating costs and margins. "These risks must be closely monitored by the feed industry. We must find ways to help customers innovate and adapt to changing market dynamics," said Helene Ziv-Douki, president and group leader for Cargill's global aqua nutrition. "We saw that 2022 was largely about managing inflation with the FED and EU CB raising interest rates. In 2023, we anticipate the outlook will be more about seeing control measures starting to work and giving a little more breathing room to input prices."
As previously mentioned by feed ingredient suppliers, feed efficiency and formula optimization are key in these times. "The continued rise in ingredient prices will increase formulation costs. To remain productive, companies need to enhance their efficiencies and be cost-effective by using different and emerging ingredients that have higher digestibility. Through Z-ARC (Zeigler Aquaculture Research Center), we can adapt our formulations using various alternative ingredients and stay up-to-date by continuous testing of performance. Zeigler has been working on feed optimization for years and already applied this knowledge to many of its best-selling products," Napulan explained.
But what are the mitigation measures farmers can adopt to reduce the impact of inflation? First, feed companies suggest intensifying production. "The economies of scale approach have proven to reduce the overall cost per unit produced in many aquatic species. However, it must be coupled with knowing the market demand so harvest will be at the right time," Napulan said.
Cargill suggests risk management. "As we are going through historic volatile environments across segments, we are working closely with customers, more than ever before, as we are helping them navigate these difficult times through our offerings related to risk management, like Cargill Price Risk Solutions, our offering aiming to mitigate farmers' risks by bringing to the table Cargill's recognized expertise in commodities," Ziv-Douki explained.
Ingredient prices
Focusing now on the feed companies, the rise in ingredient prices has strongly affected their operations. "Ingredient prices have soared in 2022 and are not expected to continue in 2023. Rabobank has, for instance, predicted stable but high prices for 2023. Having said that, the market is still highly volatile," Therese Log Bergjord, Skretting's CEO, stated.
In this context, companies are focusing on optimizing their formulations. "In times of high ingredient prices, it becomes even more important for the farmer to minimize the amount of feed that goes to waste, both the uneaten feed and the undigested feed. The latter has both direct and indirect costs. More efficient diets not only yield lower FCRs but also reduce the requirement for aeration, water treatment, etc.," Napulan said.
Sourcing highly digestible ingredients and incorporating them into a balanced formulation is the key, according to Napulan. "In recent commercial trials in shrimp hatcheries, we have reduced feed inputs by as much as 44% versus competing products. That means the customer pays less for feed and achieves a much more stable culture environment. By minimizing our investment on undigestible proteins that has a cost, our customers achieve better profitability," Napulan explained.
Feed companies also highlight that cooperation is key. "In Cargill, we help customers innovate and adapt to those changing market dynamics by working closely through an integrated, systematic and disciplined approach to manage price risk. We leverage Cargill's profound and actionable market data and analysis and transform those insights into a coherent strategy that aligns with customers' objectives and breaks the mold of traditional pricing models," Ziv-Douki mentioned.
Novel ingredients
As part of the solutions to cope with these high prices, novel ingredients are an alternative to add to the raw material basket and allow feed producers to better adapt to the market dynamics. "Novel ingredients are an intriguing option to help feed a rapidly growing global population, both in terms of nourishing people and animals. Plant proteins are increasingly popular among consumers, and they can be viable proteins for animal feed. Peas and soy, ancient grains and seeds, beans and pulses – all can provide the amino acids needed in a balanced ration. Insect protein is another opportunity for growth, provided the raw materials can be produced at scale and regulations allow feed applications," Paoli said.
However, a rapid introduction of these novel ingredients is required to sustain growth. "Approval bodies must work smoothly and rapidly. A special emphasis on the approval of feed for insects would enable this industry to grow faster by re-circulating waste and turning it into valuable aquafeed ingredients," Log Bergjord said.
"Many novel ingredients are emerging in the supply chain and some will be poised to serve as a sustainable alternative to some traditional ingredients. Many feed millers are not ready to adopt novel ingredients until clear results are seen in the field and cost-efficiency is validated at the farm level. There are a lot of interesting new ingredients out there, but many are not yet available in the quantities required to impact the industry. I believe integrators are well-positioned to work side-by-side with novel ingredient suppliers to prove their value," said Napulan.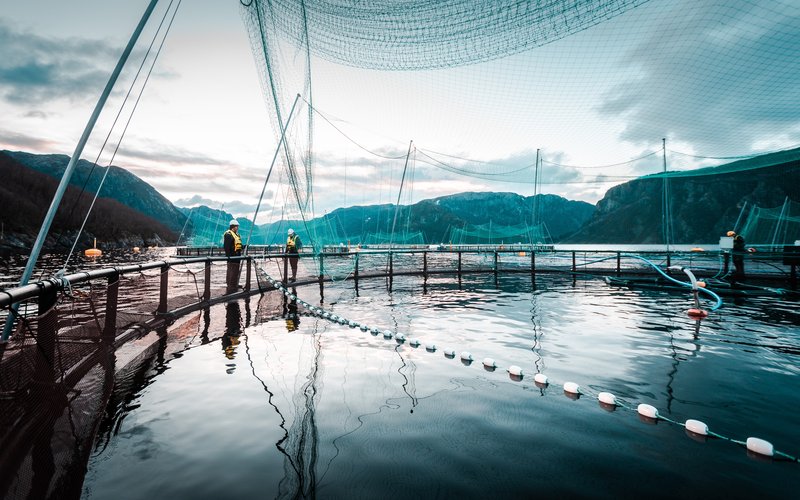 Credits: Cargill
How about logistics?
There is evidence that the supply chain is beginning to normalize, according to Paoli. "Global availability of raw materials will continue to improve into 2023, as will price competition. With ADM positioned both upstream and downstream in the value chain, as a buyer and supplier of ingredients and feed products, we see how cost structure is on an improving trend," said Paoli.
Paoli also highlighted the recent disruptors that have demonstrated the industry's need to avoid single sourcing, whether that's a single country of origin or a single supplier. "The pandemic, geopolitical concerns and other risk factors have driven up the price for raw materials crucial for feed formulations. In response, some price increases have been favorable to the global market, such as a broader distribution of amino acid sourcing now that export cost has become more competitive."
"The rates on logistics still haven't returned to pre-pandemic levels, and probably never will, but there are some improvements. I believe freight costs will continue to remain expensive as long as fuel prices remain unstable. The world is in a wait-and-see situation with China being the main influencer on container movements. Until China has fully opened and increased its port traffic, improvements in logistics costs globally are likely to be limited," Napulan said.
Climate events affecting crop yields
"Climate change affects where and how crops are grown. In any given year, for example, we can see improved yields in South America and decreased yields in North America or Europe or vice versa. As an industry, we need to embrace this reality and set up our supply chains to respond to where surpluses are available and thus be more resilient," Ziv-Douki said.
As previously mentioned, Skretting also highlights flexibility as key to cope with changing crop yields, making sure not to be dependent on one ingredient, supplier or region. "The industry should take a step back and reflect on how it contributes to climate change, and how it can drastically and rapidly reduce its carbon and other environmental footprints, as well as social impacts. This is so that it can reduce climate events from happening in the first place, as well as their severity when they do happen," Log Bergjord said.
"Regenerative agriculture practices are important to restoring soil health and minimizing environmental impacts, such as reducing carbon emissions or water usage. Planting cover crops is a regenerative agriculture tactic with short- and long-term improvements. For example, legume cover crops fix nitrogen in the soil for greater bioavailability for increased yields in the next crop rotation. Additionally, cover crops help retain soil carbon and nutrients while protecting waterways from runoff. ADM partners with growers in our supply shed to implement advanced agriculture practices that can reduce emissions, sequester carbon in the soil, and protect water quality while also improving on-farm economics," Paoli said.
Napulan suggests crop insurance which is now available in many typhoon-sensitive areas but it still is not well-accepted. "Perhaps the industry should start considering a proactive approach to crop protection. New technologies using satellite imagery that could detect and project future issues brought by climate change are also available and can be adopted," Napulan said.
Sustainability
Sustainability has been driving recent industry investments and is expected to stay. "Stricter regulations from governments, increased focus from investors and more awareness and interest from end consumers about the food that they're eating are driving the rapid development of sustainability-related investments in our industry. We expect that this will keep increasing, along with our need to further identify and mitigate the environmental, social and governance risks related to our operations," Log Bergjord said.
"Sustainability can mean doing more with less, and future investments in the industry should take into account the need to enhance performances. For example, through Cargill's SeaFurther program, we can optimize the nutrition provided to our customers, reducing the amount of feed needed for the farmed fish – the feed conversion ratio (FCR). Providing optimal nutrition for the fish we feed will also keep them healthier. Healthy fish are less exposed to sickness and grow more efficiently, so more fish can be farmed using fewer resources – with fewer GHG emissions," Ziv-Douki said.
Life cycle assessment (LCA) is also mentioned as a key and ADM is currently assessing the environmental impact of the company's feed manufacturing and applications on animal production. "As part of the LCA analysis, we can identify the global warming potential (CO2e) and emissions coming from scope 1, 2 and 3 emissions of our products and an indication of where we can make improvements," Paoli said.
The geopolitical tension in Europe has created an energy crisis but also an opportunity for energy optimization of the feed production process. "At Skretting, energy reduction has been a high priority for many years, with global collaboration on best practices and continual optimization of our process equipment. There are many opportunities to save money, but climate change and the associated CO2 targets have been significant driving factors for many of our energy-saving initiatives over the years. The more recent energy crisis in Europe could mean that some previously expensive technologies and solutions can now be justified. There is certainly more pressure on the process of signing energy contracts. There are many boxes to tick in an energy contract, including cost, supply, logistics and CO2 impact," Log Bergjord said.
Alternative proteins
In the past few years, some feed companies have invested in the alternative protein space as an alternative to animal-based food. How it will impact animal production according to some of these companies?
"We expect the animal protein markets to continue to grow and offer exciting prospects. We remain fully committed to supporting livestock and aquaculture customers with ingredients and technologies. However, to sustainably feed an ever-growing population, the world will need more solutions than animal protein – and alternative food proteins can be compelling complements. It's 'and/and', not 'either/or' – that's why we invest in alternative food protein solutions like cultured protein," Log Bergjord said.
"Alternative proteins, such as plant-based, and cell-cultured proteins, continue to receive a lot of attention, and we understand that this may be concerning to aquaculture producers. We remain committed to and passionate about traditional protein industries, and we will continue to make investments that help seafood consumption grow, just as we have over the past several years," stated Ziv-Douki.
ADM also suggests that to meet the world's nutritional needs, innovation and adaptability will be required. "At ADM, we are supporting a more resilient and sustainable food system with our broad focus on expanded protein choices for consumers. Our precise and responsible animal nutrition solutions support animal well-being and end-product food quality. Our global business is also helping food manufacturers source plant-based and alternative protein ingredients. With our vast portfolio of protein options, we are tackling the issue of food security from multiple angles and improving the value proposition of consumer products," Paoli concluded.