In vitro gut salmon gut simulator, SalmoSim, has found that waxworms fed on plastic waste offer the same nutritional value to farmed salmon as other commercially available insect meals.
While a growing body of evidence suggesting that wax worms could help tackle the global plastic pollution crisis, SalmoSim's findings go a step further, suggesting that protein sources for farmed fish could be derived from insects that have been used to digest plastic waste, thus contributing to the wider circular economy.
In recent years, waxworms have been shown to readily consume polyethylene as part of their diet. Considering that plastic waste is difficult to recycle and poses a burden to the environment, the SalmoSim team tested the hypothesis that waxworms fed low-density polyethylene (LDPE) could be a more accessible source of protein for fish feeds, using its in vitro simulator of the salmon's gastrointestinal tract.
The trial
As part of the testing process, waxworms were maintained with a diet of either LDPE plastic (cling film) or a traditional balanced diet while waxworm growth was monitored. Waxworms fed LDPE gained weight compared to unfed controls.
A whole waxworm meal powder was produced and subjected to SalmoSim digestibility assay, with digestive phases mimicking the stomach, pyloric caecum, mid-gut and hind-gut of Atlantic farmed salmon. During enzymatic digestion, small nutrients were absorbed from the digesting feed and the amount of absorbed amino acids was determined by spectrophotometric assay.
In vitro digestibility was calculated by comparison of crude protein concentrations before and after the digestibility assay in a manner mimicking live salmon feeding trials to determine a digestibility coefficient value for each bioreactor digesting the ingredients.
No significant difference in absorbed amino acids was found when comparing the control waxworms with those fed LDPE plastic indicating their plastic diet did not impact the waxworm's concentrations of amino acids digestible by salmon. Interestingly, the overall digestibility of plastic-fed worms was slightly higher than those fed on normal feed.
Compared to other insect meals, and benchmarked against fishmeal, waxworms performed very well and could be an important source of feed for salmon (Fig. 1). Further testing is now required to establish the safety of salmon fed on plastic-fed waxworms.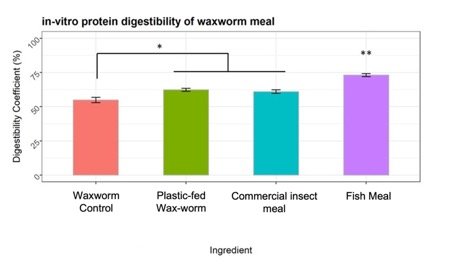 Figure 1. In vitro protein digestibility
Commenting on the findings of the SalmoSim study, Martin Llewellyn, Professor of Molecular Ecology at Glasgow University and founding director of SalmoSim, said, "we are hugely encouraged by these data which indicate waxworms used to break down plastic could be a potential source of protein for farmed Atlantic salmon. As the pressure on wild fish stocks used for fishmeal continues to grow, the need to find alternative, sustainable and low-cost feedstocks for farmed fish has never been greater."
The waxworm meal tested was whole meal. "The digestibility data indicate that the protein the worms contain is just as digestible as protein in commercially available insect meals. However, the protein content of wax worms is generally lower overall and the worms would need to be processed to concentrate the protein," Llewellyn told Aquafeed.com.
The next step is to ensure that plastic-fed wax worms pose no toxicity to salmon, and can safely enter the human food chain. "The meal may need to be 'scrubbed' for ethylene glycol, for example, rather like fishmeals are scrubbed for dioxins," Llewellyn told us.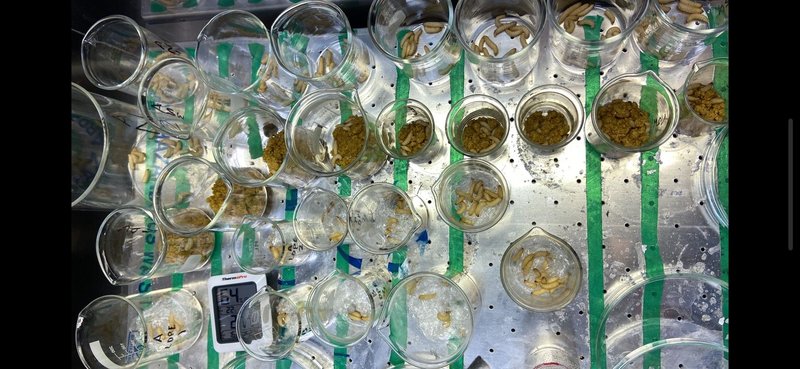 Wax worms.
The startup
SalmoSim® is an in vitro model of the Atlantic salmon's gut system established and based at the University of Glasgow. Originally developed to study the salmon's gut microbiome, SalmoSim is now deploying a novel assay named "SalmoSim Digest" which predicts the digestibility of alternative ingredients alongside a model for the absorption of nutrients by the fish. Benchmarking of the SalmoSim-Digest model against tests on real salmon show that SalmoSim is 87% accurate.
Initiated in 2016, the SalmoSim technology offers insights into the potential digestibility of a range alternative feeds for farmed salmon, without causing any negative impact on fish, or the natural environment.
The company is currently working with a range of different clients from across the aquafeed sector. "We are looking at antioxidant digestibility, protein digestibility, nano-encapsulation, prebiotics, antimicrobial resistance, and more. The system is very versatile as a tool to allow companies to pre-screen new ingredients before in vivo trials. For protein digestibility, for example, the system is 87% accurate. So at a fraction of the costs of an in vivo trial, you can get an idea of whether the ingredient will deliver in the in vivo setting," Llewellyn concluded.