Industry experts remain optimistic about long-term growth in aquaculture despite increasing concerns about costs and market conditions heading into 2023. Global shrimp supply is on a positive trajectory, driven by a supply push from Ecuador, while turbulent salmon supply growth from Norway and Chile is expected to normalize in the short term, according to Rabobank's new global aquaculture report that summarizes the key takeaways from the Global Seafood Alliance (GSA) GOAL Conference 2022.
Global shrimp supply could reach a record six million metric tons in 2023
Ecuadorian shrimp production is set to top 1.35 million metric tons in 2022. This would give Ecuador its largest single-year volume growth recorded, adding over 300,000 metric tons in supply – only slightly lower than Thailand's total annual production. Continued growth driven by Ecuador will lift the Americas over the two million metric ton mark by 2023.
Asia, the largest shrimp producer, is expected to experience its first production decline (-0.1%) since 2013. In 2023, however, Asian production is expected to rebound, lifted by higher production in China and India and a slight increase in Vietnam, pushing Asian production above 4 million metric tons in 2023.
Novel Sharma, seafood analyst at Rabobank, expressed bullish expectations for 2023. "Overall global shrimp supply in 2022 is expected to increase by 4.2%, driven primarily by Ecuador and the Americas, which compensate for flat growth in Asia. The industry remains optimistic about supply in 2023, as Ecuadorian supply growth is expected to be supplemented by a strong recovery in Chinese production of 9.5%."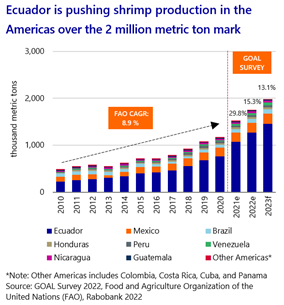 Salmon production growth to slow in the coming years
After a volatile 2021 that saw Norway expand year-on-year supply by 11.9% and Chile contract by 7.7%, 2022 is expected to deliver the first overall salmon production decline since 2016. "Slow growth in 2022 is expected to be followed by volume expansion of roughly 4% in both 2023 and 2024," said Sharma. "Supply for Norway and Chile in 2022 is expected to decline by 0.9% and 0.3%, respectively, followed by normalization of growth from 2023 to 2024, as both countries use regulatory controls to moderate supply growth."
Cumulative supply growth for Norway and Chile between 2022 to 2024 is expected to drop to 3.1%, compared to the previous decade's 7% compound annual growth rate. "These lower growth expectations for Norway and Chile create an opportunity for Iceland and the Faroe Islands to become more relevant drivers in global supply this decade," added Sharma.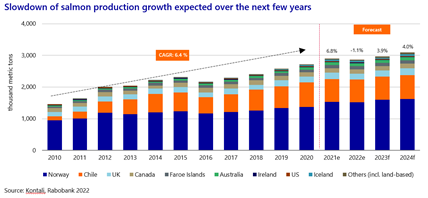 Feed costs
Aquafeed and market prices have consistently been the top concerns for fish farmers over the past few years. Market prices were the key concern in 2021, according to Rabobank's 2021 Global Seafood Alliance GOAL Survey. "However, the markets for feed ingredients have been volatile since the start of the war in Ukraine," said Sharma. "This has pushed aquafeed prices to the top as fish farmers' primary concern heading into 2023, with low expectations for prices to decline in 2023."
"Industry participants also highlighted growing concern about feed quality. Producers are also increasingly worried about their access to credit as central banks raise interest rates in order to combat inflation and lenders curtail credit," Sharma concluded.