Maharashtra Feeds recently inaugurated a new state-of-the-art floating fish feed plant in Lucknow, Uttar Pradesh, India. With a production capacity of 35,000 metric tons per year, the company aims to serve the North, Central, East and parts of Western India.
The plant is equipped with modern and fully automated equipment. "Our advanced and latest grinding, mixing and extrusion technology with a 10 TPH twin screw extruder ensures the production of premium hatchery feeds as well as grow-out floating fish feeds with sizes ranging from 0.6mm to 4mm," Garvit Jain, vice president at Maharashtra Feeds, told Aquafeed.com in a recent interview.
Maharashtra Feeds began its journey in 1993 with a small mash plant in Sonipat. Since then, the company has grown rapidly and became one of the fastest-growing companies in the country, specializing in poultry feed. With an eye on diversification, the company later expanded its operations to cattle and pig feed and in 2019, Maharashtra Feeds ventured into the fish feed segment launching Aquatech in 2021, its brand of premium quality floating and sinking fish feed.
"Our fish feed is formulated to meet the specific nutritional requirements of various fish species for different stages while balancing the macro and micronutrients such as amino acids, polyunsaturated fatty acids, minerals, etc.," Jain explained.
Currently, Maharashtra Feeds operates 15 factories across India that produce a range of animal feeds, including poultry, fish, cattle and pig feeds, and feed supplements. "We are a growing family with over 1,000 dedicated employees and over 3,000 satisfied customers, we call it 'Maha Feeds Family'", Jain said.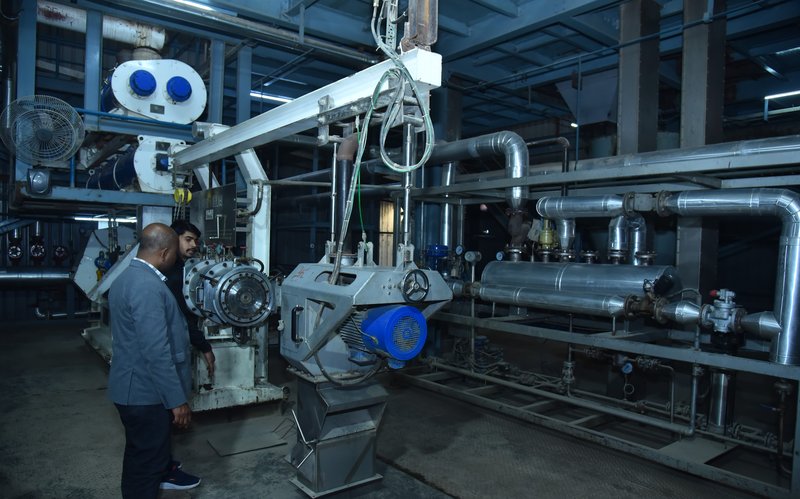 Maharashtra Feeds new fish feed facility

The raw material basket is full of locally sourced ingredients, such as maize, broken rice, soybean meal, fish meal, MBM, fish oil, RB oil, amino acids, vitamins, minerals and other additives. "The main issues that feed mills face in India are fluctuations in prices, availability and quality of raw materials, as well as logistics challenges. Additionally, factors such as weather conditions, crop failures, and trade policies can also affect the availability and cost of raw materials. In some cases, feed mills may need to find alternative sources or substitute ingredients to maintain the quality and consistency of their feed products," Jain explained.
The company has a technical team to provide training and support farmers to improve their skill set, productivity and profitability. The technical team, led by qualified and experienced experts, conduct Farmer Group Meetings (FGM) on a regular basis empowering farmers with the best farming techniques and guiding them to overcome common and seasonal challenges.
"We are committed to ensuring that all farmers have access to the support they need to succeed, regardless of the category they operate in. Our training programs are comprehensive and tailored to the specific needs of each category, ensuring that farmers receive the most relevant and up-to-date information," Jain said. "The main demand of fish farmers in India is to have access to high-quality feed at affordable prices. They need training programs for enabling them to sustain, scale and make their farms profitable."
After the opening of the new fish feed mill, the company has further plans to expand its market reach and product portfolio. Maharashtra Feeds aims to set up new manufacturing units according to the growing demand for animal feed in different regions.
"We always strive to improve our product line by continuously upgrading the quality of our current products and developing innovative products anticipating the future demand for those products. Though shrimp feed is a promising market, we are currently studying the scope, scalability and profitability of this industry," Jain concluded.