The Asia-Pacific (APAC) region accounted for more than 90% of global aquaculture production in 2018 (FAO). With six feed mills in the area and covering all aqua species, Asia is a strong focus area for ADM, which is launching a new functional fish feed focused on seasonal variations. Aquafeed.com talked with Marc Campet, regional aquaculture business developer at ADM, to discuss how the company sees the aquaculture industry in this area and its recent developments.
The pandemic
The COVID-19 pandemic hit all major aquaculture markets, including the APAC region, but over the past two years, the situation has greatly improved. "Most notably and recently, we're seeing the industry in China back up and running as the country is now fully back to normal levels of activity," said Campet.
"Within the aquaculture space, we're seeing the trend come back to typical tendencies for most aqua species, particularly for shrimp. However, we're still seeing some challenges within this sector as the price of shrimp decreases and production increases in countries like Ecuador," Campet stated.
The pandemic also brought soaring prices of raw materials. "The pandemic greatly affected the way raw materials are sourced and used in animal and aquafeeds. After three years of high raw material volatility severely impacting feed mill activities, farmers' costs of production and profitability, we're now finally seeing some down trends in the market that are positively impacting both production and costs of production," Campet said.
Ingredients
With raw material volatility, countries in the APAC area are incorporating more locally sourced ingredients to replace soy with the challenge of keeping optimally nutritious feed recipes.
"Identifying and using locally available ingredients and raw materials has always been a critical focus for us in the APAC market. Once identified, it's important to analyze the nutritional profile and value of raw materials to determine how they can be used to provide optimal nutrients required by the species," Campet explained.
"ADM has high-level analytical capabilities to screen raw materials as they're being sourced. Naturally combining this approach with our R&D aqua platform enables us to be more proactive and flexible within formulation and product development. Being able to screen in-house raw materials digestibility within Asian conditions allows us to drive optimal formulation, bringing the best raw material balance to the species' requirements. Additionally, growth benchmark trials are a powerful tool to ensure product evolution within a competitive market as well as new product development," Campet said.
"At the same time, feed additives are becoming more critical for supporting feed performance and efficiency – especially in a new era where functional feeds are gaining increasing interest from larger farm and aqua operations seeking out multifunctional solutions that address production needs and cost efficiencies," Campet stated.
As the industry shifts feed development away from finite, wild resources, such as fishmeal and fish oil, for increased sustainability, novel ingredients are also crucial with an increasing proportion of new candidates. "It is critical to assess their nutrient efficiency upon species' nutrition requirements. However, supporting sustainability in aquaculture goes beyond nutrition. Sustainability also enhances processes related to biosecurity, advanced farming systems, functional feed ingredients and precise feeding practices. For example, in Vietnam and Mexico, ADM has a model BIOSIPEC farm to demonstrate to shrimp farmers how biosecurity, nutrition and energy efficiency work together for reduced farming risks and environmental impact, while enhancing animal welfare."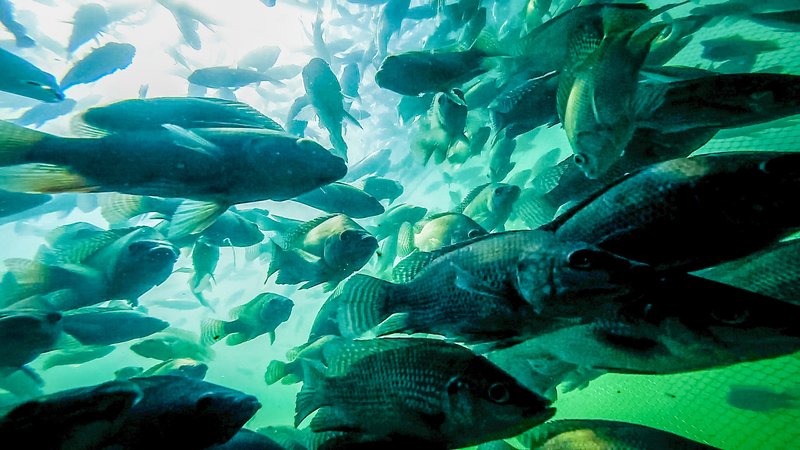 Credits: ADM
Supporting farmers
With farmers moving to more intensive aquaculture systems, cost-effective aquafeed is one of the main issues in the APAC region. "First and foremost, it's important to look at aquaculture as an investment rather than a cost. Prioritizing the use of high-quality feed is essential for the success of intensive aquaculture farming within the APAC region and can lead to improved fish health, growth, cost savings, reduced environmental impact and improved marketability and overall quality of fish and shrimp at harvest, while also guaranteeing food safety for the end consumer. Investing in high-quality feed is also more cost-efficient within aqua production because fish and shrimp are more likely to reach their full genetic potential," Campet stated.
Demand for standard grow-out feeds remains one of the top needs industry-wide, according to Campet. "Interestingly, we're seeing more large farm operations with good technical expertise and capabilities working on their cost optimizations and investing in nursery feeds to produce healthier fingerlings, or implementing functional feeds that enhance animal performance under different production and environmental conditions."
ADM supports aqua farmers with a full portfolio of solutions for fish and shrimp. The company is launching a functional feed to support fish performance under seasonality variation with hot temperatures, which may cause challenging environmental conditions and disease risks to surge.
"We are in a very exciting period in this aquaculture nutrition and development as we see technology and know-how driving the industry forward. With evolutions in data management, water management and RAS, genetics, nutrition, veterinary treatments and vaccines, the industry is positioned for big advancements that support farmers and improve the quality of aqua species and our oceans," Campet concluded.